Keep that heart pumpin', everybody! No, not the figurative 'love' thing…but our real heart! It is important for our heart to stay fit and strong throughout our lives. This month isn't just about Valentine's Day, but it is also National Heart Month! Let's explore 5 ways we can make sure that our heart is healthy!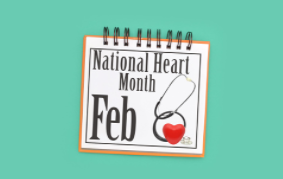 #1. 🏃🏋️💪
Though it is very redundant, it is true! Making sure we get some cardio in every day will surely keep our hearts fit and strong. As exercise makes the heart work extra hard to pump blood, it improves the ability of your muscles to intake that oxygen out of the blood. Having a regular exercising routine helps the circulation and therefore, strengthens the heart. This will help lower health risks such as high cholesterol, artery diseases, and even heart attacks. Any exercise will do the job! Find some ropes and jump! Maybe run a 5K or do some biking!
#2. 😴
Zzzz's are very important too! If you don't get proper sleep, our heart won't be that fit. Our circadian rhythm won't have a balance and you'll end up groggy all day or even sleepwalking. Having good sleep not only affects your daily routine, but your health as well. Always make sure to sleep early and wake up early. (Some days are an exception). It is important to maintain a proper sleep and wake up time. If you continue the same routine for more than a month, you don't need any alarm to wake you up! Your body will understand the routine and you will wake up by yourself. Sleep-deprived people show less variability in their heart rate, and thus the heart rate won't fluctuate normally. 
#3.  🥗
You are starving after a long day of math practice and want to eat a snack. You know that there are a lot of berries and fruits in the fridge and there are some carrots inside. But that chocolate cupcake sounds so good! Or maybe even a donut! I know, I know, cravings are really hard to resist, but small choices like those will add up to a huge amount. Though your mouth might temporarily want sweet or junk food, your heart doesn't really want that! It might be craving carrots and ranch! Nutrition is important for your heart and your body and will prevent issues like obesity, diabetes, or even long-term heart disease. 
#4. 💦💧
Now let's go back to that same scenario again. You have carrots, fruits, cupcake, and a donut. But you also see some water. What you actually might need is a cup of water! Our stomachs might signal that we are hungry, so we look around to eat food, but many times we are eating unnecessarily. Our stomachs might be signaling us to drink some water instead of eating. Hydration is crucial for our skin and body. Water helps our heart pump more blood and easily allow the flow of oxygen to our muscles! Remember, when in doubt, drink some water. 
#5. 😌
Stress is a HUGE factor for heart attacks and severe headaches which can turn into migraines. Many times in life, we go through stressful situations. Some might matter for the moment, but others might impact our entire lives. And you can't really go through them, you have to face it and overcome these decisions. And that process might get into our heads and cause us to have anxiety and delusions. But we have to keep ourselves in control. As stress leads to lack of sleep and nutrition, our heart is not going to stay fit. It will trigger the heart to have poor blood flow leading to other health issues and increased risk of strokes.
So, what are you going to do to keep your heart healthy? Make sure to stay on beat!