This article part of an ongoing series by Gwen Barret and Destiny Johnson.
Welcome Back!
If you are new to our series, welcome to Computers Are a Science, and if not, welcome back! For those who aren't familiar with us, last year we had an article series that covered topics ranging from coding languages to the history of computers. This year we have a few surprises in store for you!
A YouTube Channel
One of the first and main surprises coming up this year is the creation of our YouTube channel! With the user name of 'Computers are a Science!' you can find our channel and keep up with our videos that will be posted every week. As we continue to write articles for the FLVS Newspaper, we will link the videos that we believe to be helpful with them!
Some more thrilling news! After months of trial and error, we have finally designed a logo that we find both friendly and exciting! Please give a drum roll for our very own 'Computers are a Science' logo!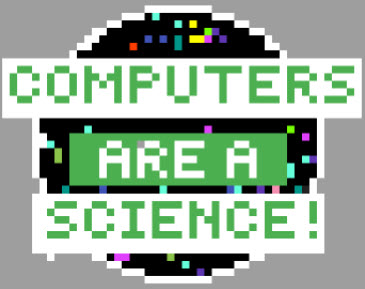 You'll see this pixelated bad boy in our upcoming articles and on our YouTube channel! We hope that by the publication date of this article, we'll be ready to start producing YouTube videos to go along with our articles!
Articles to Expect this Fall
We have taken some time to learn some more programming languages so that we can bring more to the table this year! This fall, expect to see at least two or three articles about different programming languages such as JavaScript and Python. We'll also be introducing you to programming with Minecraft Java Edition and Python, and we'll be creating some Minecraft Bedrock Addons!
In addition to these programming languages, we'll take a test drive into engineering and electronics, such as game controllers and the Raspberry Pi. Continuing on, we will also dive into video game development using the Unity Game Engine!
We also hope to interview and shine light on FLVS students who are enthusiastic about technology and programming!
For the Rest of the Year
As time goes by, we hope to have a few more surprises for you guys! Another surprise is that we hope to have gaming livestreams for Computers Are a Science once a month, starting in November!
Stay tuned for our soon-to-come channel and articles for more updates and Computers Are a Science editions!