Theodore Kiselev is a Florida Virtual School student with high goals and an amazing reputation. Known for his work with his very own organization, "Help When Needed," he is working to make his community better for everyone's wellbeing. Theodore works very hard to make sure people get the help that they need and works to balance his time with school and this wonderful organization.
He and his group of fellow volunteers give back to their community by sharing thank-you cards and items with healthcare workers, collecting donations for food pantries and stocking shelves, participating in environmental cleanup activities, and more.
Finding Time for Schoolwork
Theodore makes sure he always has time for his online schoolwork whenever he can. He states, "FLVS allows me to more efficiently work on classes I do not have time for in my current class schedule. This is really crucial for me because while 'Help When Needed' is my passion, success related to school is extremely important to me."
It is clear that Theodore makes time for school just as much as he does for his volunteer group. In addition to finding time to finish regular schoolwork, he also found time for his favorite class, Advanced Placement (AP) Psychology. AP Psychology is the scientific study of human behavior and mental processes. He also appreciates his teacher just as much as he likes this class and gave a shout-out to Mr. Henry Seng, Mrs. Knapp, and Mrs. Farricker. He states, "All of them have been great teachers and helped me significantly in my FLVS journey."
Supporting the Southwest Florida Community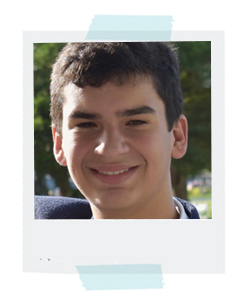 "Help When Needed" is also a priority for the high school senior. Theodore makes sure he always puts his hardest work into this initiative and is also happy to put a smile on other people's faces. "I have always loved helping others. In the future I hope to go into the medical field to help others. For now, I plan to continue to grow 'Help When Needed' and help as many people as I possibly can." says Theodore.
Theodore also tries to find ways to share the positive feelings he has about helping others with his peers and community. His volunteer group has done many projects to make this a possibility. As an example, he received a thank you from a hospital employee after being sent a thank you letter, and it "touched my heart," Theodore states.
He hopes this article will reach other people and inspire them to be the best person they can be! You can follow their activities on Instagram @helpwhenneededfund.