Many will celebrate Thanksgiving during the month of November. For some students and families, the classics on the menu will be turkey and dressing, corn casserole, and mash potatoes. However, one question remains: just how did basic mashed potatoes establish and keep their place in the Thanksgiving lineup?
Thanksgiving is supposed to be a holiday for indulging in side dishes that aren't normally part of the weekly dinner lineup. According to a 2015 Vox article, potatoes account for 15% of vegetable farm sales. So, if families are going to include potatoes in their Thanksgiving, shouldn't they prepare a show-stopping dish that will leave their guests drooling? If that's what your family wants to do, I've got the perfect dish for you. Chef Kevin Rathbun of Kevin Rathbun Steak in Atlanta, Georgia is the mastermind behind these perfect scalloped potatoes. 
Scalloped Potatoes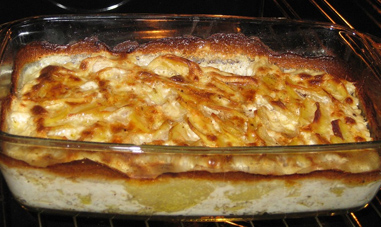 To prepare the potatoes, you'll need a 9 by 13-inch baking dish and a mandoline. If you don't have a mandoline you can use a knife. However, a mandoline will work best, and yield the thinly sliced potatoes desired for this recipe. You will also need a medium-size bowl, two large bowls, tin foil, and measuring cups.
The ingredients you will need are:
Cooking spray
3-4 medium to large Yukon gold potatoes
2 large sweet potatoes
Salt
Pepper
2 cups of gruyere cheese
1 cup of parmesan cheese
¾ cup of heavy cream.
Before continuing, I want you to know that my family has adapted this recipe a bit for our preferences. We only use gruyere cheese and we add shallots for a bit of extra flavor. You can modify this recipe to your family's preferences too.
To prepare the potatoes:
First, preheat the oven to 400 degrees.
Next, use cooking spray to lightly grease your baking dish.
Then, use your mandoline to slice the sweet potatoes lengthwise into 1/16 inch thick slices. Repeat the same process with the gold potatoes. If you are inexperienced in the kitchen, please have an adult do this step. Mandolines are very dangerous and could cut you. Using your two large bowls, keep the two potato varieties separate.
Add the gruyere and parmesan cheese to your medium-size bowl.
After that, use a measuring cup to measure ½ cup of the cheese mixture, and set it aside.
Then, place the sweet potato slices in the bottom of the baking dish. Season the sweet potatoes generously with salt and pepper.
Then, add another layer of sweet potatoes. Sprinkle this layer of potatoes with a cheese mixture.
Finally, repeat this process with the gold potatoes. Continue this process with both potato varieties until all the potatoes are used, and even layers are created.
Lastly, pour the cream over the potatoes, and sprinkle them with the ½ cup of cheese you set aside earlier. Cover the baking dish with foil.
Next, place the potatoes in the oven. You may want to have an adult do this. After 30 minutes, remove the potatoes from the oven and remove the foil. Remember, you may want to ask a trusted adult to do this.
Finally, place the potatoes back in the oven and let them continue to cook until they are crispy and golden brown (usually about 30 minutes).
Lastly, remove the potatoes from the oven for the final time, and let them cool for 10 minutes before serving them.
I'm sure these delicious and creamy potatoes will be an instant hit. Thank you to C. W. Cameron of the Atlanta Journal Constitution for refreshing my memory on how to prepare these delicious potatoes.
Sources:
Photo Credit: Unsplash
https://www.vox.com/2015/11/25/9799556/potato-squash-consumption-usda