Fall is here, which means it's time to make recipes with all things pumpkin! These four fun pumpkin-themed recipes are the perfect way to celebrate fall and they will definitely be the star of the show at your Thanksgiving dinner.
Classic Pumpkin Pie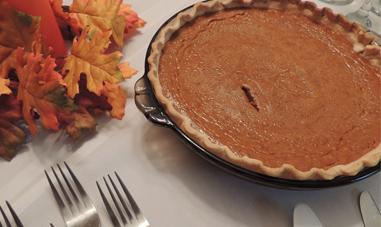 When you think of fall recipes, one of the first things most people think of is a classic pumpkin pie. The soft, crumbly crust mixed with the smooth, flavorful filling. Pumpkin pie has been a classic fall dessert for decades.
Recipe makes 1 pie (approx. 8-10 servings depending on slice size)
Ingredients:
1 (9-inch) unbaked deep-dish pie crust
¾ cup white sugar
1 teaspoon ground cinnamon
½ teaspoon salt
½ teaspoon ground ginger
¼ teaspoon ground cloves
2 eggs
1 (15 ounce) can of Libby's® 100% Pure Pumpkin
1 (12 fluid ounce) can of Nestle® Carnation® Evaporated Milk
Instructions:
Step 1: First, preheat your oven to 425 degrees Fahrenheit.
Step 2: In a small bowl, combine sugar, salt, cinnamon, ginger and cloves. In another larger sized bowl, crack and beat the eggs lightly.
Step 3: Then, add the pumpkin and sugar-spice mixture into the eggs and stir. Take the evaporated milk and slowly stir it in. Pour the mixture into the pie shell.
Step 4: Put the pie in the oven and bake it for 15 minutes. Once 15 minutes are up, lower the temperature of the oven to 350 degrees Fahrenheit. Bake the pie for another 40 to 50 minutes, or until a knife/toothpick stuck into the center comes out clean. Once it is done, cool the pie on a wire rack for a total of 2 hours. Then, serve straight away or refrigerate. (Note: Don't freeze the pie! Even if you are in a time crunch and want the pie cold as soon as possible, freezing it will cause the crust to separate from the filling.)
Recipe Credit: https://www.allrecipes.com/recipe/22755/libbys-famous-pumpkin-pie 
Vegan Pumpkin Spice Latte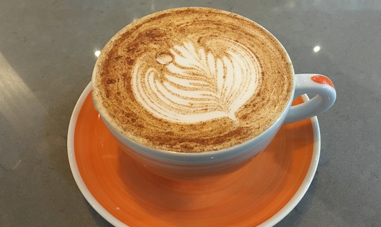 Pumpkin spice lattes are another classic fall recipe and this one has an amazing secret- it's vegan! It has the same, classic pumpkin flavor, but with alternatives to ingredients like dairy.
Recipe makes 2 servings.
Ingredients:
2 cups of soy milk (or dairy alternative of your choice, you can also do almond or soy milk)
2 tablespoons of pumpkin puree
1 tablespoon of vanilla extract
½ teaspoon of Pumpkin Pie Spice
½ cup strongly brewed coffee or 2 shots of espresso
Sugar to taste
Instructions:
Step 1: Pour the soy milk into a saucepan. Then, add the pumpkin puree, pumpkin pie spice and vanilla extract. Heat the ingredients to become hot, but don't let them boil.
Step 2: Turn the heat off and add the espresso or strongly brewed coffee and whisk it in. Add your drink into two separate mugs and add sugar to your preference.
Step 3: Top it with some vegan whipped cream and a sprinkle of pumpkin pie spice (optional). Take a sip and enjoy!
Recipe Credit: https://lovingitvegan.com/vegan-pumpkin-spice-latte
Pumpkin-Shaped Dinner Rolls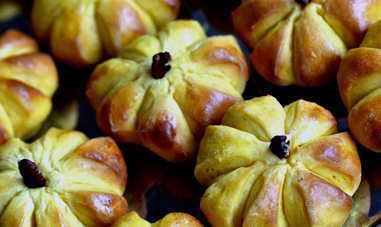 These cute pumpkin-shaped dinner rolls are sure to be the star of the show at your Thanksgiving dinner. Bonus: you can make the dough homemade or just use store-bought dough, so this recipe is perfect for beginners and experienced chefs alike!
Recipe makes approximately 8-12 servings/rolls.
Ingredients:
Rhodes Bake 'N Serve Dinner Roll Dough or any other store-bought dinner roll dough. (or use this homemade recipe)
Non-stick cooking spray 
Pecans (you could use nut-free pretzel sticks as an alternative if you are allergic to pecans)
Butter
Instructions:
Step 1: Spray some non-stick cooking spray on your pan (or, coat the pan with butter.)
Step 2: Set the roll dough onto the pan. Cover it with plastic wrap and let the rolls rise for a total of two hours.
Step 3: After the dough has fully risen, take the plastic wrap off of the rolls. Knead the dough until soft.
Step 4: Using a knife, cut the dough into around 8-12 pieces (or cut into less/more pieces, depending on how big you want the rolls to be or how much dough you have). Roll each piece of dough into a ball and set the dough balls on the tray so that they are about an inch apart from each other. 
Step 5: Dust your hands with flour and gently squish each ball slightly. Dip the tip of your scissors into oil and cut the dough into "petals". The dough should look similar to a flower. (Remember to dip the scissors into oil before you cut the "petals" into the dough, since the oil helps petals not stick back together.)
Step 6: Create an indent or a small hole in the middle of every roll. This will be where the pecan (or pretzel stick) will be put into. Cover the rolls with plastic wrap once again, and let them rise for 1-2 more hours.
Step 7: Once they have risen, make sure that the holes are still indented. If they aren't indented anymore, press and make another indent/hole.
Step 8: Preheat your oven to 350 degrees. Glaze the rolls with butter and bake them for 15-20 minutes, until they are a perfect golden-brown color.
Step 9: Final step! Cut your pecans (or pretzel sticks) into thirds and stick them into the ident/hole as the "stem" of your pumpkin. Now your delicious pumpkin-shaped dinner rolls are ready to eat!
Recipe credit: https://thistlewoodfarms.com/simple-pumpkin-rolls/ http://www.ricenflour.com/recipe/how-to-make-pumpkin-dinner-rolls-recipe 
Pumpkin Overnight Oats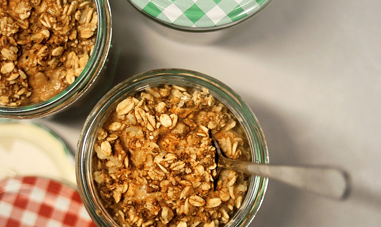 Overnight oats are a great, healthy breakfast idea! They're easy to make, delicious and don't take much effort. So why not give them a fall twist? Full of fiber and protein, this vegan and gluten-free pumpkin overnight oats recipe is a must-try for everyone.
Recipe makes 4 servings.
Ingredients:
2 cups oats rolled, old-fashioned, gluten-free
2 cups milk almond or cashew
½ cup pumpkin puree
3 tbsp. coconut sugar
3 Tbsp. pure maple syrup
1 tsp. vanilla extract
¾ tsp. pumpkin pie spice
½ cup pecans coarsely chopped
Instructions:
Step 1: Put ½ cup oats into four different 6-8 ounce mason jars (an 8-ounce jar is the most recommended for this recipe). Next, pour ½ cup milk into each jar.
Step 2: Take a small bowl, and whisk the pumpkin puree, pumpkin pie spice, coconut sugar, maple syrup, and vanilla together.
Step 3: Add identical amounts of this mixture to each jar (this will equal around 3 tablespoons per jar). Chill for a minimum of 2 hours or overnight before serving.
Step 4: Right before serving, toast the pecans for 7-10 minutes in an oven heated up to 325 degrees. Add the pumpkin puree to the oats and sprinkle the jar with 2 tablespoons of pecans as a topping. Enjoy!
Note: This recipe can either be served hot or cold. To serve hot, microwave the jar of pumpkin overnight oats for 1-2 minutes or until they are at the desired temperature. You may have to add a little milk to get the best consistency. To serve cold, just open the jar once they are ready to eat and dive in!
Have fun making these recipes this fall and sharing them with your family! They surely will become a family favorite!